How Do I Figure Out My Niche?
A good niche is a combination of what you are well suited for, who you like working with, and what the market needs and will buy.
To find it, identify what makes you unique in your business, and then find the corresponding need in the marketplace.
Beyond the work you enjoy, also consider the ways you like to market and how the people you want to reach may be looking for you.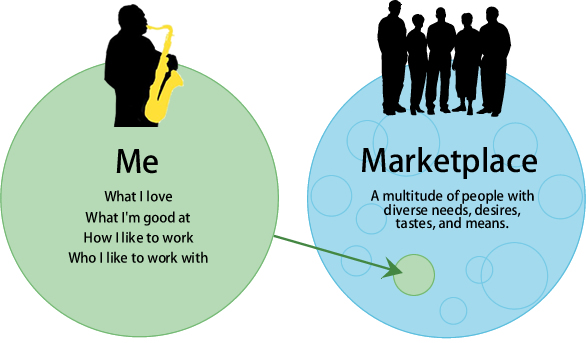 An Example
Me: I do web design, I prefer small projects, e-commerce interests me, I design sites that are clean, elegant, and simple, I like working primarily over email.
Marketplace: There is a segment of small business owners who need e-commerce but can't afford firm prices (which are $5K+). A percentage of them are looking on search engines for the right company.
Combination (niche): simple, clean e-commerce design for small online shops, marketed through having an informative website and investing in search engine optimization.
Look For Low Hanging Fruit
There are a lot of "great ideas" out there–when you get one, ask yourself seriously how hard it will be to implement and if there are enough people with the ability and desire to pay for it. A good idea is one that you can develop in a timeframe you have, with the start-up costs you can afford, and will start to make you an income soon. There are many needs/opportunities in the marketplace that would not meet these criteria.
For example, there are a lot of small business owners who would love to get a custom website for $300. But can  you make a living you enjoy doing that? Probably only if you had an automated system. The less you charge, the more automated you have to make things in order to have a profit margin.
A major decision point is how high-end you are going to be. High-end means you market your product as high-quality, specialized, custom, or some other quality indicator. You can charge more and do less volume, which is usually a good combination for a micro-business.
It's tempting to look at the marketplace and say
There may not be enough people with enough money to
Some have hidden costs and complications that aren't immediately obvious. A "great idea" is easy to come by; it's the implementation that takes hard work and perseverance.